Economic Insights – August 2018
Here is a snapshot of key economic statistics as well as house-buying data and personal-loan rates. These shape consumer confidence and are highly relevant in defining how businesses market to their customers.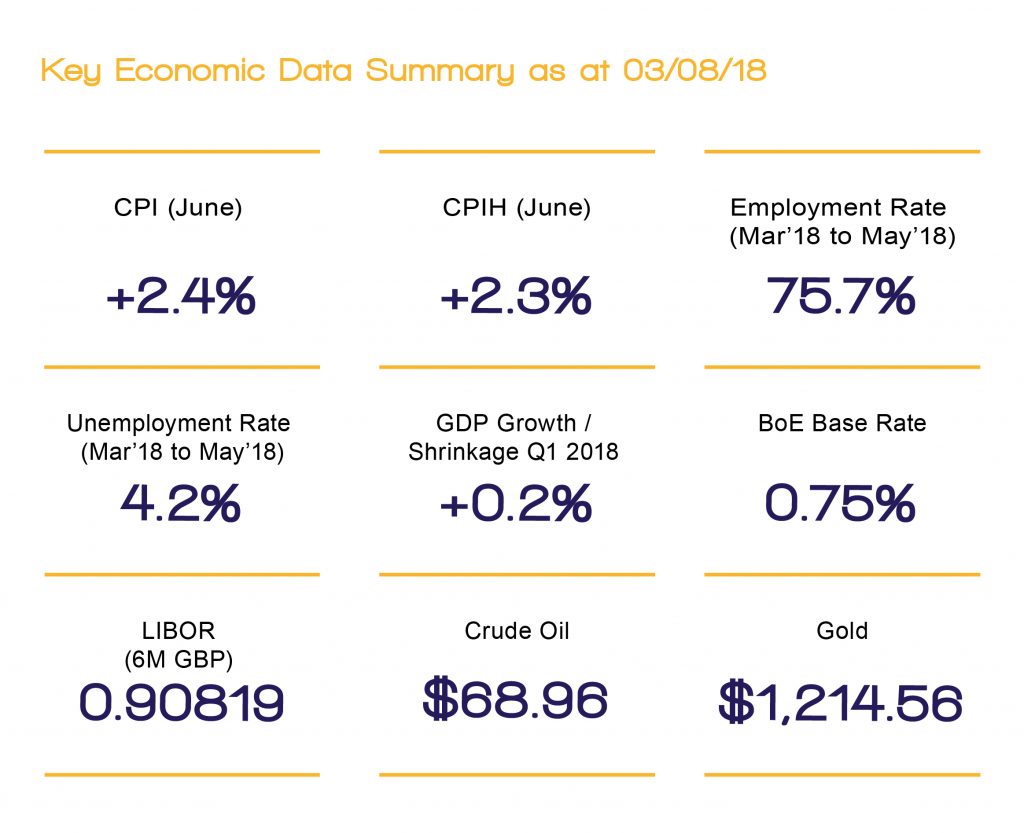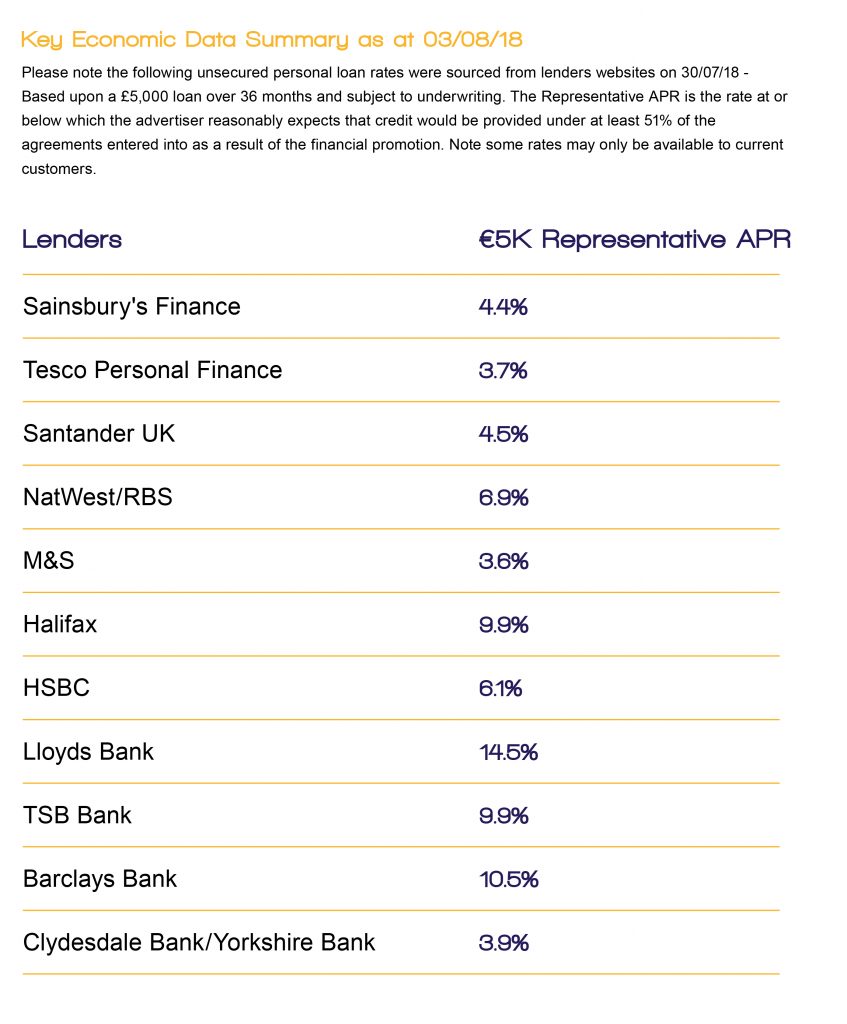 House Price News (source Halifax Banking Group as at 06/07/18)
Home sales edge up in May. UK home sales grew by 1% to 99,590 in May. In the three months to May sales were 4.8% lower than in the same three months a year earlier. This weakness reflects the slowdown seen in mortgage approvals over the past year. Completed sales since December have held steady, averaging close to 99,000 per month. (Source: HMRC, seasonally-adjusted figures)
Housing market activity rises in May. Bank of England industry-wide figures show that the number of mortgages approved to finance house purchases – a leading indicator of completed house sales – were 64,526 in May. This was a 2.5% month-on-month increase, ending the run of three consecutive monthly falls and was 2.1% lower than May 2017, which recorded 4.6%. Approvals each month have been in a narrow range between 63,000 and 67,000 over the past five months; indicating that home sales are unlikely to change significantly over the next few months. (Source: Bank of England, seasonally-adjusted figures)
Housing activity remains steady. After falling for 26 months in succession, new instructions edged up in May. Furthermore, the average stock of homes for sale on estate agents' books held broadly steady, albeit close to historic lows. On the demand side, new buyer enquiries fell again, although the pace of decline has slowed since the start of the year over the same period. (Source: Royal Institution of Chartered Surveyors' (RICS) monthly report). Terraced homes have seen average prices rise by £60,482 since 2013, while detached homes recorded an increase of £73,638. Although flats have recorded greater price gains over the past five years, semi-detached and terraced homes have remained the most popular choices for homebuyers.
Economic News
Household Finance Update June 2018 – UK Finance
Estimated gross mortgage lending for the total market in June is £23.5bn, 2.1 % higher than a year earlier.
In June, the number of mortgage approvals by the main high street banks i fell by 2.1 % compared to the same month a year earlier. Within this only remortgaging approvals increased and were 3.4 % higher than for the same period a year earlier, this was offset by the 4.7 % fall in house purchase approvals and 4.3 % fall in other secured borrowing.
Credit card spending was 4.7 % higher than a year earlier, with outstanding levels of card borrowing having grown by 5.6 % over the year. Outstanding overdraft borrowing was 5.8 % lower compared to the same time last year.
Personal deposits grew by 1.3 % in the last 12 months. Deposits held in instant access accounts were 4.2 % higher than a year earlier.
 Business & Economic News
31/07/18 – GfK – The GfK consumer confidence The Overall Index Score has now registered at zero or negative since February 2016.
– index decreased two points in July 2018, with falls across all five measures.
06/07/18 – SMMT – UK new car market declined by -3.5% to 234,945 registrations. Strong growth for petrol and plug-ins cars was more than offset by declines in diesel sales with demand down -28.2%. Year to date the market fell -6.3%.
26/07/18 – ONS – UK households have seen their outgoings surpass their income for the first time in nearly 30 years.
Sources:
ONS
http://www.global-rates.com/interest-rates/libor/libor.aspx
https://www.halifax.co.uk/media-centre/house-price-index/
https://www.independent.co.uk/news/business/news/credit-card-interest-rate-hike-bank-of-england-mortgage-lending-data-a8469406.html