Are you benefiting from the surge in used car finance?
As we move into 2019, could more dealers improve their approach to finance? I believe that many can and we're here to help.
At Mann Island Finance, our focus is on helping more dealers realise the benefits of dealer finance. Part of that is helping them to develop their approach to using finance to create car sales; after all, an estimated 80 percent of car buyers need credit to finalise their car purchase.
At a glance
Used car dealer finance is growing according to the latest Finance & Leasing Association (FLA) data:
Total Value up 14%
Total Volumes up 8%
If your total used car values and volumes did not increase by these amounts, then, in short, you are likely to be missing out. Perhaps, just as worryingly, you could be missing out on car sales driven by finance as well.
Using finance to create greater value
It's clear that over the last decade an increase in finance sales has run in tandem with an increase in financial regulation. It is for this reason that I'm looking forward to the FCA's report on motor finance, which is expected shortly. I'm sure the review will see changes for all of us and I anticipate that the focus of the report is likely to be on increasing transparency and fairness. These are not to be feared but welcomed. Let's take away any doubt and show just how attractive used car finance can be to private car buyers and business people.
Looking at transparency and fairness, I can see plenty of opportunities to embrace such an approach to help drive forward the value of finance; here are just a few: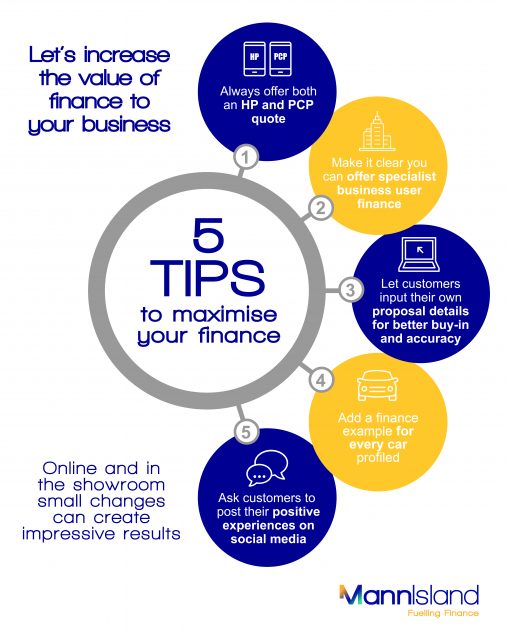 These are just 5 simple ideas and what they have in common is making it easy for customers to choose your dealership and your finance. Traditionally, finance has been a 'push' sell; such an approach is no longer appropriate. Today, success with finance is a 'pull' ethos making finance and the car/van to which it provides access easier for the customer.
Converting new business
Having made it easy for the customer, you then want finance to be easy for you and your team. This is where Mann Island Finance is so valuable:
Our unique lender with broker capability means we have a wide breadth of products and appetites for different credit risk customers
Our extensive field presence is on-hand to help close sales, something that is often very welcome for business user finance
Our background is in dealer finance; many of us have worked in the showroom and we understand the pressures and mechanics of the showroom – we talk your language
So as we kick-start 2019, add an extra dimension to your business; don't hesitate to get in touch – we're ready to roll up our sleeves and help.